Lưu ý: Tham khảo ý kiến của nhân viên INO sẽ giúp bạn tiết kiệm được thời gian và chi phí khi cần mua sắm. ​​Với sự tư vấn của chúng tôi, bạn sẽ không gặp khó khăn khi tìm hiểu về đặc tính của sản phẩm cần mua.
Gemini 700 LRI is a portable calibration dry block for temperature thermometers from 50°C to 700°C. It has a high capacity to allowing a large number of probes to be calibrated together. They are also suitable to accept large diameter probes with the block volume of 65 x 160 mm.
Whilst the large block takes longer to heat and cool than other models, it can calibrate thermocouples, resistance thermometers, thermostats and sensors that are too large for the smaller blocks.
Gemini 700 LRI comes with a removable block of 8x 8 mm holes.
Gemini 700 LRI is available in two models, the BASIC (B) and the SITE (S).
The B model includes a sophisticated temperature controller with a dual display for set temperature and dry block temperature.
The S model additionally includes an in-built temperature digital indicator to which an external temperature sensor can be connected, giving greater accuracy eliminating temperature gradient and loading errors.
For laboratory accuracy, Gemini 700 LRI can be used with high-end temperature indicator.
Key features:
Large calibration volume: 64 x 160 mm depth
Wide operating range: 50°C to 700°C
High capacity block
Temperature range
50°C to +700°C
Absolute stability over 30 min
±0.03°C at 250°C
±0.04°C at 550°C
±0.05°C at 700°C
Heating time
50°C to 700°C: 120 min
Performances
Refer to uncertainty graph below
Calibration volume
64 x 160 mm depth
Removable
8x 8 mm
Depth: 154 mm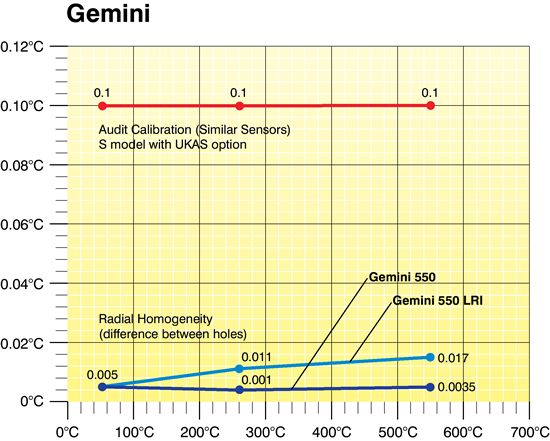 General specifications
Size
302 x 176 x 262 mm
Weight
18 kg
Display
Resolution: 0.01 to 99.99 and 0.1 to 100.0 / 650.0
Units: °C, °F, K
Power supply
100 / 120 V (50 / 60 Hz) or 200 / 240 V (50 / 60 Hz)
1000 Watts
Communication ports
RS 232
Resource & Download
Lưu ý: Nếu một thiết bị nào đó không được liệt kê ở đây, điều đó không có nghĩa rằng chúng tôi không hỗ trợ được bạn về thiết bị đó.
Hãy liên hệ với chúng tôi
 để biết danh sách đầy đủ về thiết bị mà chúng tôi có thể hỗ trợ và cung cấp.
INO: Bán, Báo giá, tư vấn mua sắm và cung cấp, tư vấn sản phẩm thay thế; tương đương, hướng dẫn sử dụng, giá…VNĐ, …USD info@ino.com.vn | 086 9421303 | 02873000184 | AOIP-High capacity portable calibration dry block (Model:GEMINI 700 LRI).